HMI & PLC
The IDEC HG2G with its enhanced visibility and user friendliness is a logical choice for any HMI application. The IDEC HG2G operates in a wide range of operating temperatures making it suitable for the toughest operating environments.
HG2G 5.7" HIGH PEFORMANCE HMI PANEL
The IDEC H2G2 High Performance HMI panel offer a very high visibility display at 800cd/m² with 16-bit colour performance. Serial, Ethernet and USB communications and up to 7000 graphic images come as standard with this IDEC HMI panel.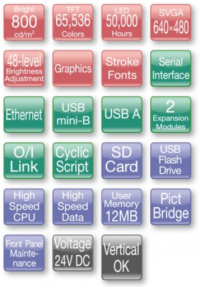 At only 114 x 76mm the high visibility, monochrome HG1F HMI panel is ideal for monitoring and control applications where space is limited. The IDEC HG1F is fully compatible with the IDEC HG2F, HG3F, HG4F and HG2S HMI panels.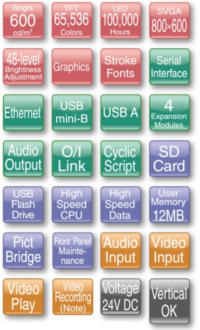 The IDEC MicroSmart FC6A All-In-One, the PLC best suited to the era of IoT.
Systems and machines can be monitored remotely and in real time, optimizing processes, analysing production status and correcting errors.
SmartAxis Series FT1A PLC
Touch Screen, Pro with LCD display or Lite with no display versions are available. A choice of 16, 24 or 40 I/O with the 40 I/O available with a CAN J1939 option.
The IDEC FL1F series of Smart Relays is available with up to 24 Digital inputs, 20 Digital outputs, 8 Analogue inputs & 8 Analogue outputs.